Happy summer! I hope you are all taking advantage of the warm weather and finding time to relax with friends and family! I will actually be traveling back to Chicago and Michigan for a couple weeks on July 30 as my mid-year break. My sister is having a baby! If you're around, I'll be at Church of the Beloved in Chicago on July 31 and Lawndale on Monday, August 1. I would love to see any of you!!
There has been a lot of activity at the hospital since I last wrote two months ago. I have been working in the hospital more, catching babies, and learning how to chart in Spanish. One of the main differences between my work here and my work in Chicago is the occasional lack of ability to follow a patient's care during labor from beginning to end. We had many pregnant ladies come to our hospital in July but we unfortunately had to transfer a fair amount of them due to our remote hospital's limited resources and staff. It is always hard for me to send them to the city hospital (via ambulance) when I want to assure that they receive quality healthcare and are well cared for emotionally. These women have chosen to come to our hospital, which is a major feat in itself due to their traditional practices of giving birth alone. But then, for whatever high risk indication, we have to send them away. I know it is the wisest decision but I also wish we could be with them to the end, to see the end result, assure that they receive the best care, and show them the love of Jesus in tangible ways.
Three weeks ago, Elena (patient names changed for privacy) came to our hospital in labor. I had seen her multiple times in the clinic. I always enjoy being present for women I already have a relationship with. We had a beautiful birth together and a healthy baby boy, but then her placenta decided not to come out. After waiting some time, she started to bleed profusely. Since it would not come out with the normal measures, I had to manually remove it by inserting my hand all the way up into the uterus and scraping it free from the walls until the whole thing was detached. I had only ever seen this done twice by OB/GYN's in the States, and had never done it myself. Gracias a Dios (as we say here), the whole procedure went textbook perfectly and I cannot state enough how Elena was a CHAMP. It is a SUPER painful and super invasive procedure. (Usually women do not handle it well, obviously… But I'm also thankful for my small hands! 
) Her bleeding slowed and seeing that she felt fine with normal vital signs, we thought we were in the clear. I returned to my house to sleep. However, a couple hours later, she suddenly went into hypovolemic shock and became disoriented!! The doctor on call had to transfer her to the city for intensive care and we heard nothing about her for over a week.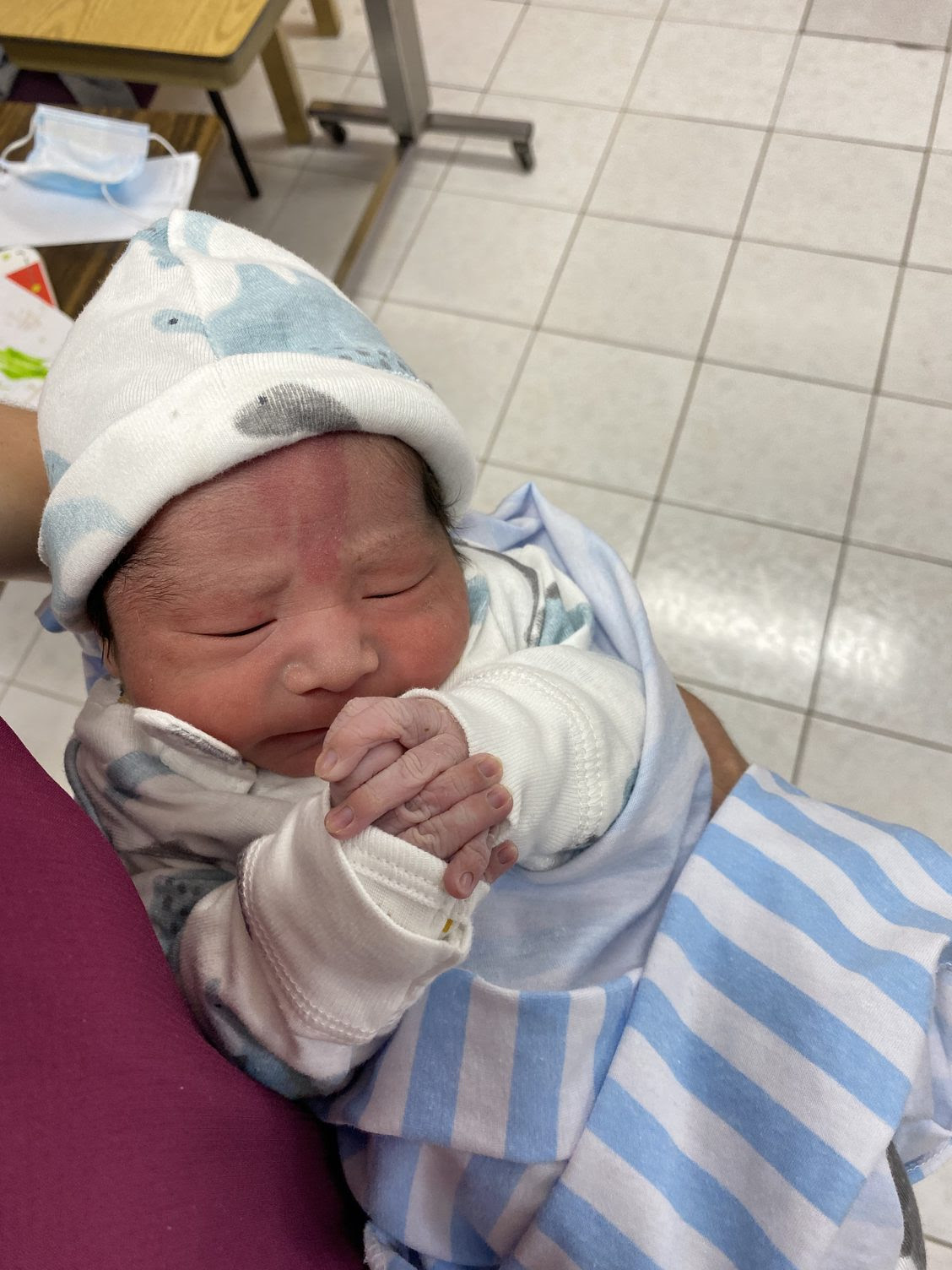 A few nights later, Mireya presented at nine centimeters dilated in preterm labor during a busy surgical weekend. The hospital was full with only two nurses for the night shift plus we do not have the resources or training to care for preemies. Paige, a volunteer nursing student from Nebraska, and I went with Mireya in the ambulance to Guachochi, coaching her to breathe through her intense contractions and resist the urge to push. I thought for sure we were going to have a baby on the road!!
Me in the back of the ambulance prepped for a fast, messy birth, trying not to fall on the patient while we speed around mountainous curvy roads at midnight
These instances have made me consider my work here and what it means in the greater story of the Tarahumara people. Just like how I have a strong desire to follow through until completion, assure that we achieve a healthy mama and baby in each birth, my work here as a missionary midwife will likely not see the end result, the fruit of my labor. It is the same for all the other missionaries before and with me. We have seen progress of course, and are very thankful for that, but bringing healthcare and the gospel to a whole people group is a slooooooooow process. However, just because we may not see the desired end result does not mean our work is in vain. It is quite the opposite! If I had not removed Elena's placenta, she would have lost even more blood. If she had not chosen to come to our hospital, she would have certainly died. If Mireya had not been able to resist the urge to push as we advised or if our driver had not been available to transfer her in the middle of the night, she could have had her premature baby without the appropriate resuscitation measures and preemie care that may have been required. All of these recent examples illustrate perfectly the importance of a team in mission work. Most of us will not see the end result, but we are all working together over the years and decades towards the same goal. We won't save all the people personally (both medically and spiritually), but we are part of the team that builds on each other. Together we are like one of the many rock walls I see throughout these communities, each of us an integral part to the overall structure.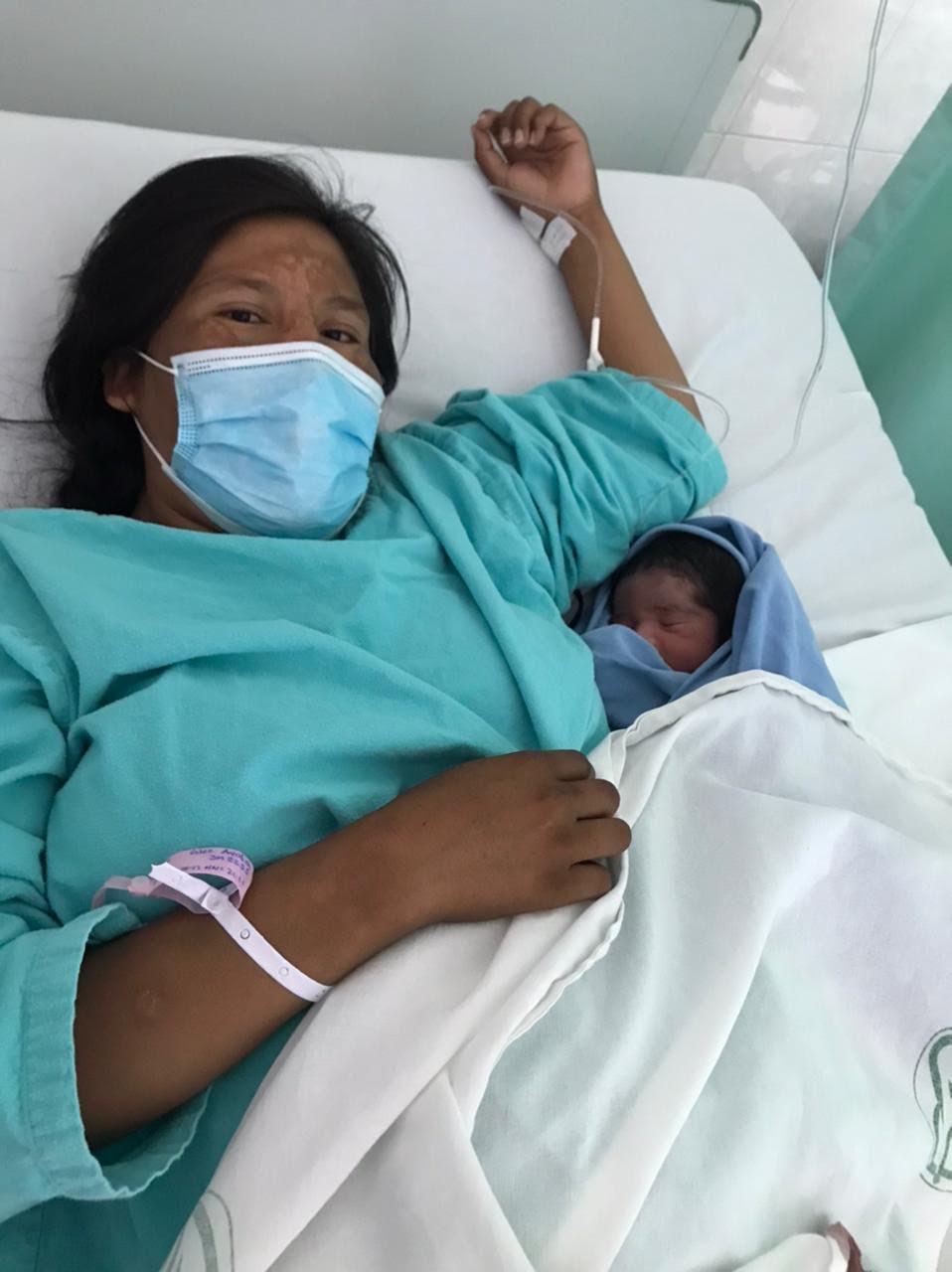 Lady from last newsletter who gifted me pinole. She also had to be transferred. 
 But this is her with her healthy baby boy in Guachochi!
Likewise, each rock in the wall is necessary to hold each other up. If one is missing, the whole thing will begin to crumble. I am thankful that I have many rocks around me supporting me for as long as I am here. The greater the foundation, the bigger the rock/impact that I can be. I am sustained by those supporting me (YOU!) and ultimately by God, our cornerstone. Thank you for all your prayers, support, and finances. I literally would not be here without them.
We had the privilege of receiving a point of care ultrasound training from Hope Imaging last week. I took a course for women's point of care ultrasound last July but then did not start working in the clinic and performing ultrasounds for nine months, so it was a great refresher! Matt, the radiologist, and his wife, Nancy, an OB/GYN ultrasonographer, were a valuable resource to me and the doctors here!
Finding out the baby's gender on one of our own beloved missionaries!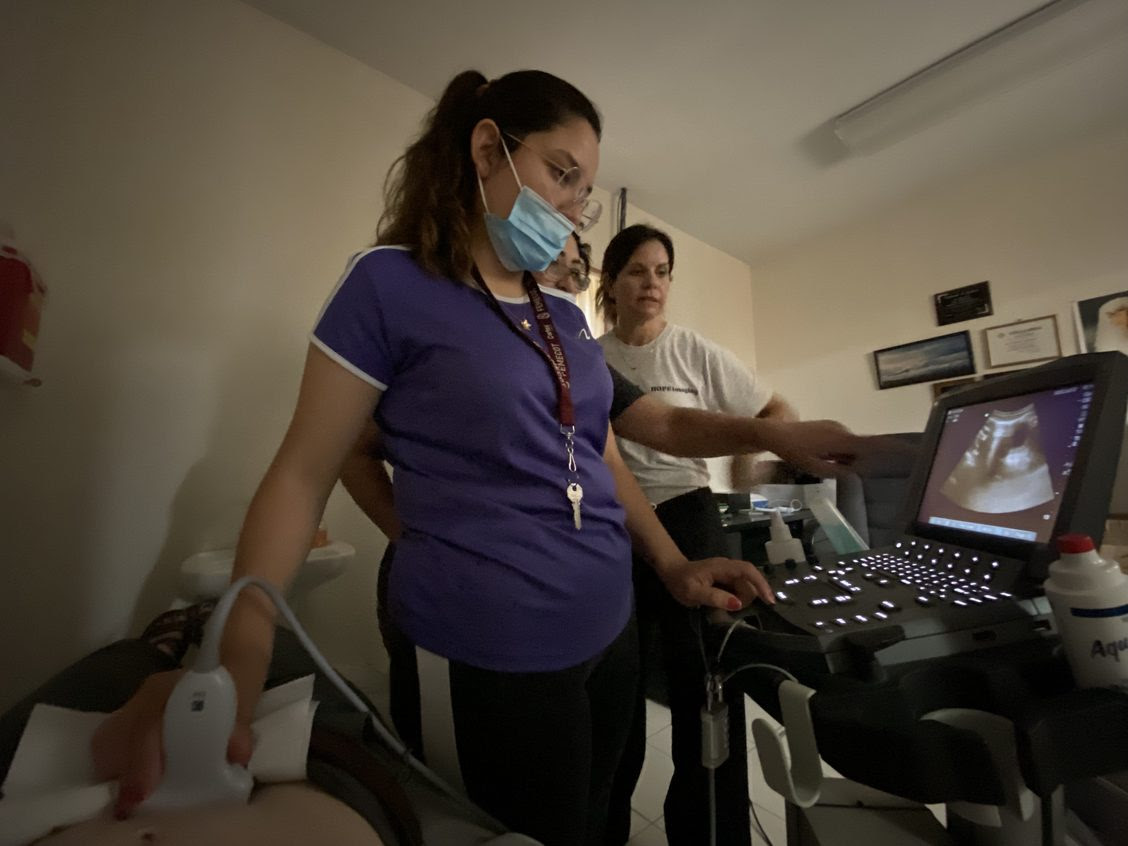 Being our own models 
My work is made possible by and contributes to the work of my teammates, coworkers, and other missionaries in the Sierra. In this way, we are spurring each other on to be bigger rocks as we build up this structure together. All of our contributions serve the greater goal, physical and spiritual healing among the Tarahumara, as exemplified by Jesus' ministry during His time on earth.
The children's ministry at Santa Rita
Tom and Michele Ebben are a missionary couple that successfully brought the new labor and delivery bed down from Wisconsin! PTL!! Building a foundation of good equipment is only one small way they contribute!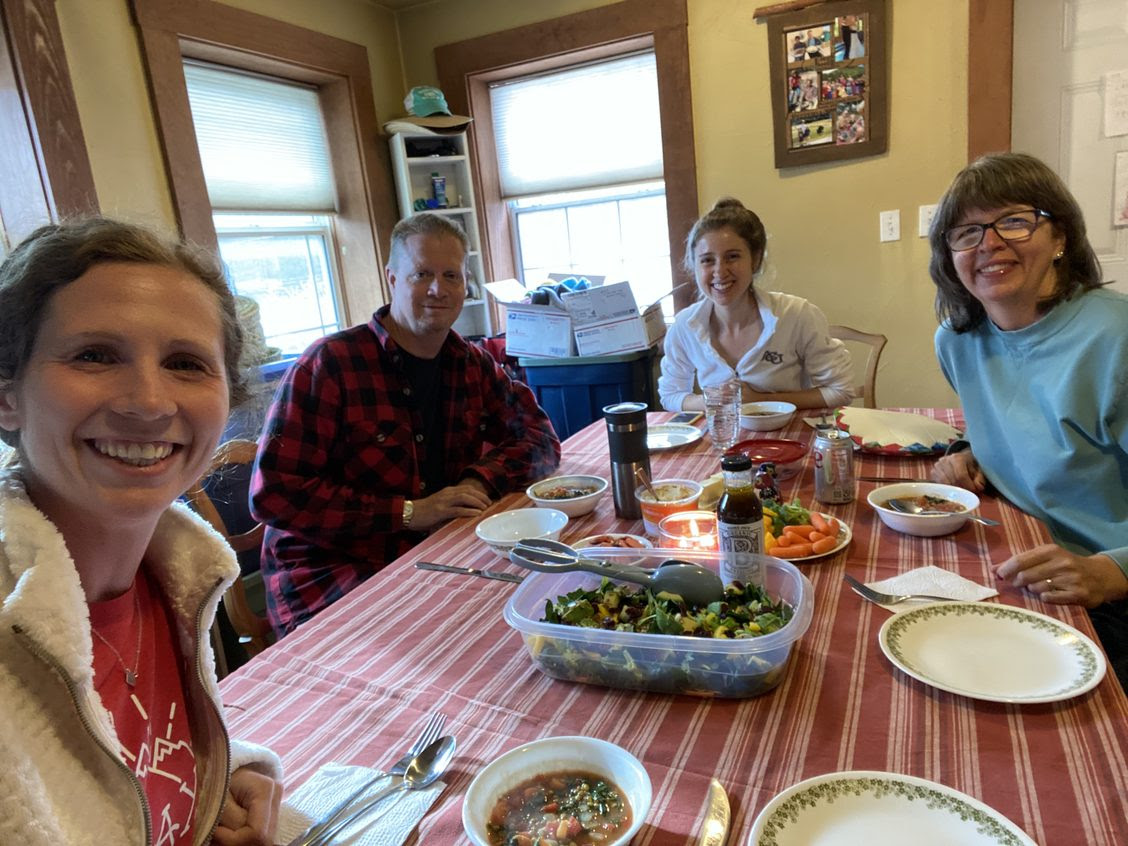 Raque, my Spanish teacher, has been the 'rock of language'! What a crucial role this has been in my life!! Yet she also does SO much more for the hospital community.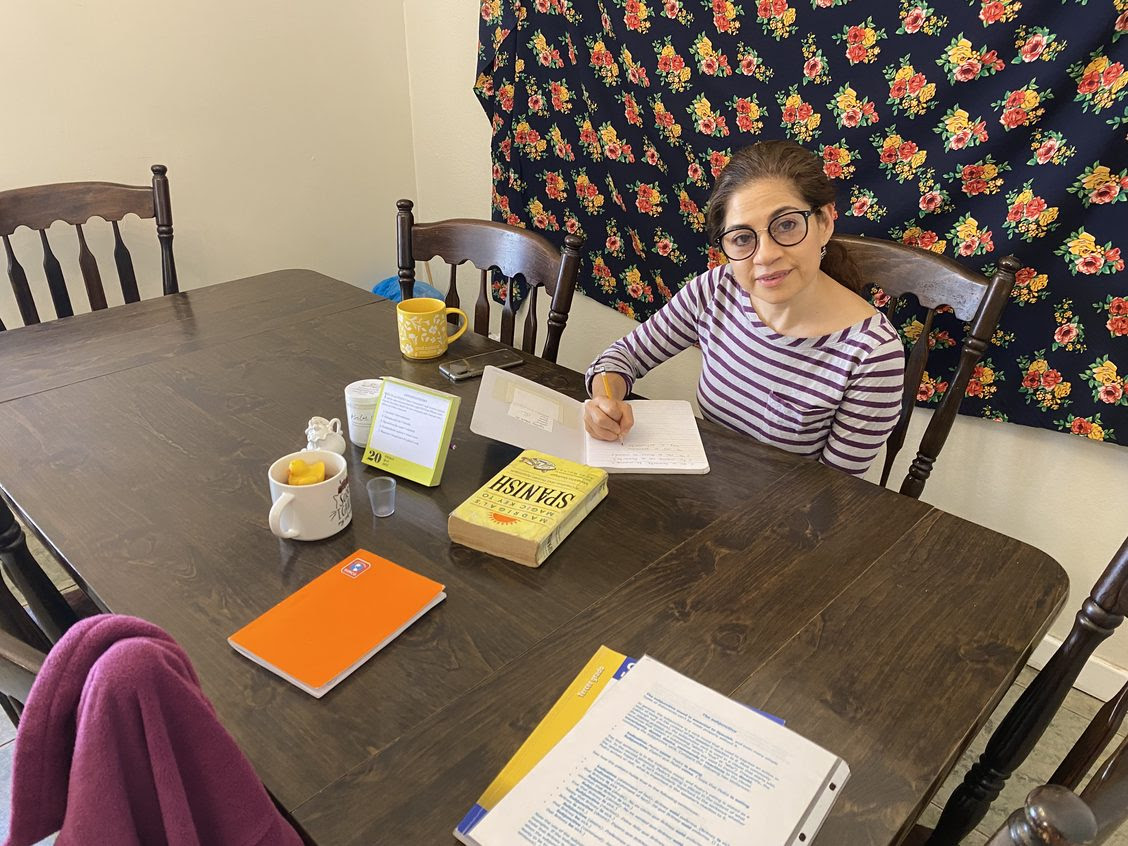 Haley — I wouldn't be where I am 'in the wall' today without this girl by my side. She has been my rock since the beginning.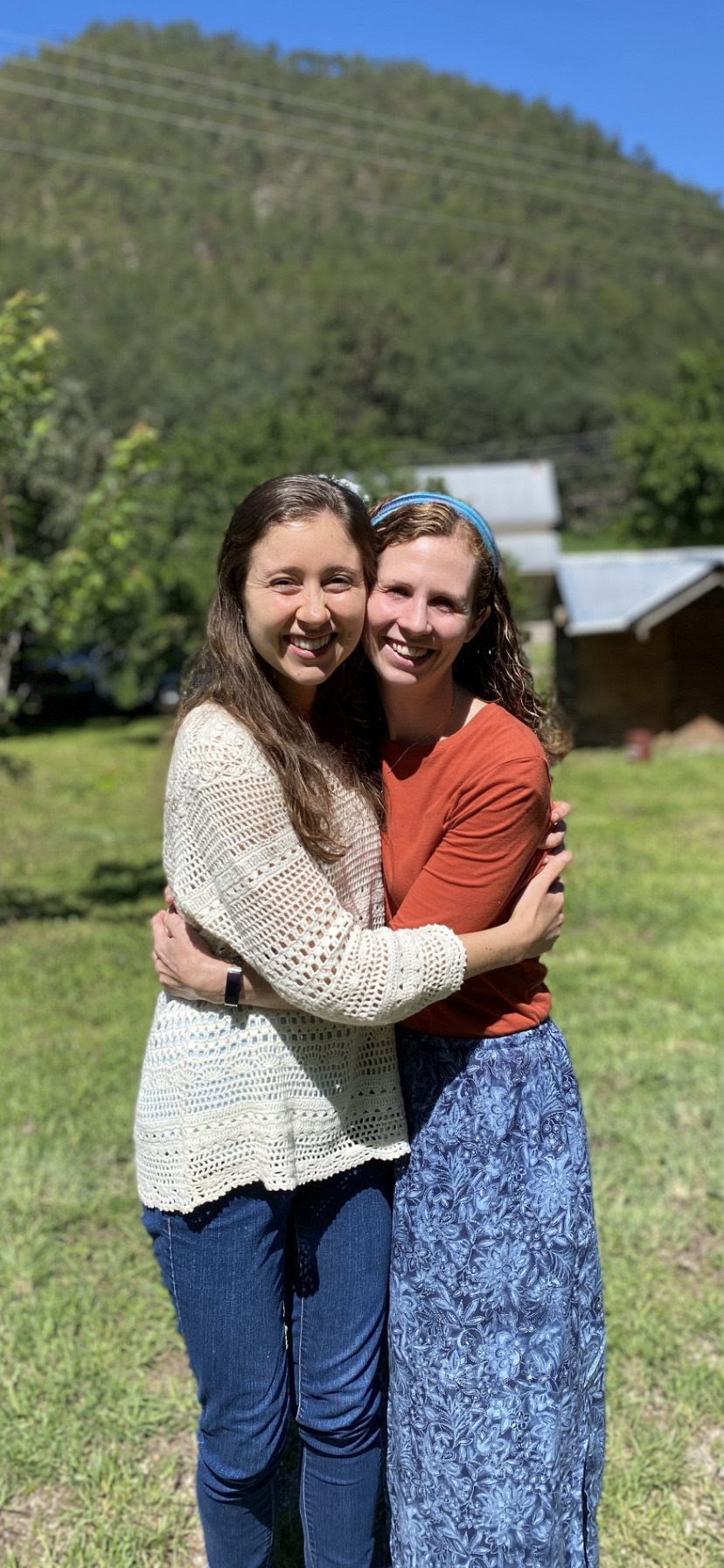 I could write so much more about the amazing work of SO many people here. The Lord has blessed the Sierra with people that do not tire in the face of years of slow receptivity and change. With each rock, we are getting closer to our goal. Though we may not see the end result, we may not personally see Tarahumara churches multiplying across the Sierra and health disparities lessening, each of our individual impact is building upon the others, and one far off day we will rejoice together when the fruit of our labor finally blossoms.
Let us not become weary in doing good, for at the proper time we will reap a harvest if we do not give up. Galatians 6:9
Thank you for being a rock in the story of the Tarahumara people!
If you would like to contribute financially, the ways to give are listed below:
Give online/set up monthly recurring donations: https://secure.acceptiva.com/?cst=tjZmAN

 Text to give/set up recurring donations: Text "CAITLIN" to 71777

Checks can be mailed and made payable to Christian Health Service Corps PO Box 132 Fruitvale, TX 75127. Write "Missionary 181" in the note of the check.

Set up an automatic bill pay online through your bank (to avoid the 3% processing fee). Account number: Project 181.
Copyright (C) 2022 Christian Health Service Corps. All rights reserved.
You are receiving this email because you opted in.
Christian Health Service Corps
PO Box 132
Fruitvale, TX 75127
Update Preferences | Unsubscribe