As many of you already know, I have committed to serve as a medical missionary abroad with Christian Health Service Corps (CHSC). I will be going to a remote area in the Sierra Madre Mountains of Chihuahua called Copper Canyon. There live an indigenous people called the Tarahumara (or Raramuri, in their own language). They are the descendants of the Mogollon Indians who fled to the mountains when the Spanish conquistadors invaded Mexico. Since then, they have lived a rather isolated life in the mountains and kept most of their cultural traditions. As subsistence farmers, they grow just enough food to feed their families, but they are often affected by droughts and cartel activity. Subsequently, their lives are shaped by tremendous need and lack of resources.
Hospital Mision Tarahumara was enacted to combat this need and bring the love of Jesus to an unreached people. The missionaries operate both in the hospital and in the various small communities dispersed across the region, teaching both health and agricultural education to assist the Tarahumara.
A pregnant Tarahumara woman being seen by Doctor Pedro, who sadly went to be with the Lord when COVID arrived at the hospital
The hospital used to have midwives but now has been without for the last number of years. That is where my part comes in! While I had been looking for opportunities and waiting for the right time, God had been slowly preparing and leading me here and also answering their prayers!! The Tarahumara is one of the only people groups in the world that does not have an innate midwife system to care for their women. Pregnant mothers go out into the forest alone to give birth. Consequently, Tarahumara women have one of the world's highest rates of maternal and infant mortality.
The hospital's delivery room
I am excited to go be a part of this mission and serve these women. I am excited to build relationships, invest, serve, and do my part in bringing about God's Kingdom to a beautiful people. Through my partnership with this hospital and CHSC, my hope is that we would be able to provide them with quality medical care, health and agricultural education, and necessary tools to empower their communities and protect their culture. My earnest prayer is that the Tarahumara come to know the saving grace and steadfast love of our Lord Jesus Christ both individually and eventually as a community.
Organizing the delivery room while I was visiting in October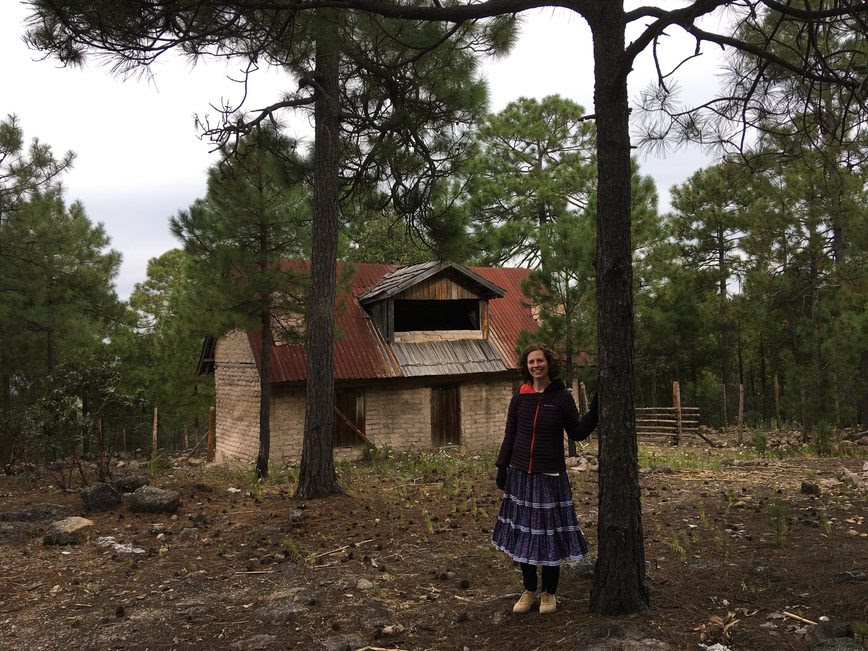 On a community visit standing in front of an abandoned building (one which some people there may have their eye on for a potential future birthing clinic??)
I would love to stay connected with you all and would be very honored if you decide to support me financially and/or in prayer. I know that this work is far too large for me or even the amazing team they already have at the hospital, but I am hopeful that God who has begun a good work in them will bring it to completion (Philippians 1:6). So this is where your part comes in! I will need finances and lots and lots of prayer, and would love to be on mission together with you all as my partners! No pressure at all to give financially, but if you would like to, I have listed the ways to give below. Even if it is only $5 per month, every little bit helps and is very appreciated!
Give online/set up monthly recurring donations: https://secure.acceptiva.com/?cst=tjZmAN
Text to give/set up recurring donations: Text "CAITLIN" to 71777
Checks can be mailed and made payable to Christian Health Service Corps PO Box 132 Fruitvale, TX 75127. Write "Missionary 181" in the note of the check.
Set up an automatic bill pay online through your bank (to avoid the 3% processing fee). Account number: Project 181.
I am only just beginning this journey (and still have a lot to learn!), but I am excited to share future updates with you! I will try to keep them short and sweet in order to not clog your inboxes! 🙂 Thanks for reading this long introductory one!
Love to you all! Stay warm and safe!
Caitlin
Copyright (C) 2021 Christian Health Service Corps. All rights reserved.
You are receiving this email because you opted in.
Christian Health Service Corps
PO Box 132
Fruitvale, TX 75127
Update Preferences | Unsubscribe